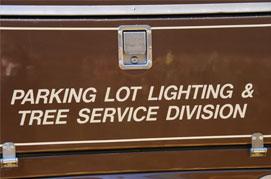 Are your parking lot lights cycling on and off?
Are your fluorescent lights flickering or flamed out?
Are your employees in the DARK because your parking lot lights aren't working properly?
Adequate lighting provides your customers and employees with added safety and security. Let Montvale Landscaping brighten up your facility.
Due to the increasing requests for parking lot lighting repairs and upgrades, Montvale Landscaping, Inc. has stepped up to the challenge. We recently acquired a dedicated 40 foot bucket truck specifically for this mission.
Below are some highlights of our bucket truck services:
– Quick response time 24 hour emergency service
– Portable light towers available
– Energy saving lighting upgrades
– Hourly and daily truck rates
– Underground locator service
– Scheduled maintenance
– Storm/Accident Damage clean up and pole replacement
– Our truck is stocked with the most common ballast, lamps, photocells and fixtures.
Contact us at 201-573-1277 for more information or estimates
Striping, Sealcoating and Road Sweeping
Parking lots of all sizes need legal striping and signs that meet the demands of local, state and Federal laws.
Montvale Landscaping can help you with all your parking lot needs.
Protect your investment. Regular maintenance will help to keep the asphalt from tearing up, by keeping out water, and other expansion debris.
When space is a priority in your parking lot, we can take the snow away.
Lighting, Maintenance & Repairs
Striping, Sealcoating and Road Sweeping
Signs